How to prepare the drainage system of the base of sports pitches?
Views: 1 Author: Site Editor Publish Time: 2017-05-12 Origin: Site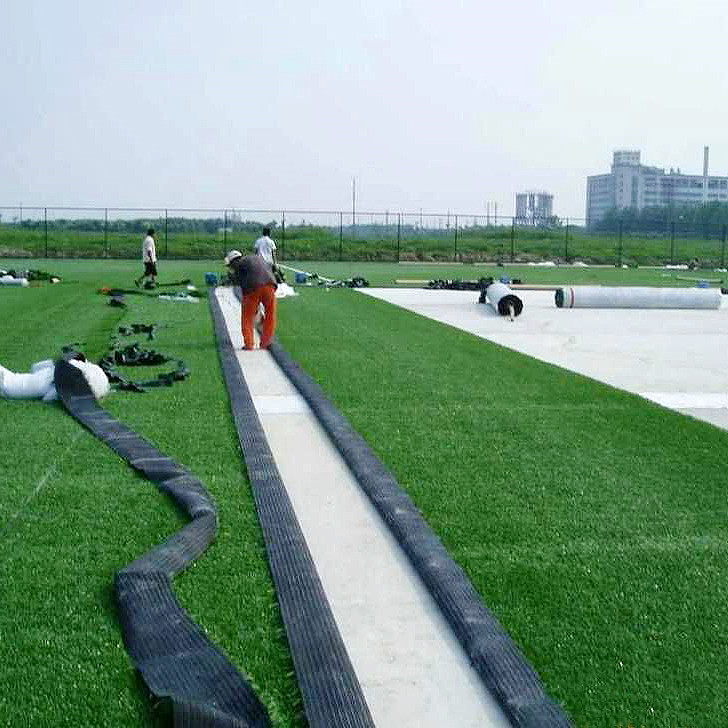 Let's talk more about drainage system of sub base of sports field
For professional or large sports field, drainage system for the sub layer is quite important. For a non water permeable synthetic pitch, the surface water will drain through the perforated backing of the artificial grass. It will follow the slop to the lowest areas of ground. The water needs to be let into an outlet and carried away from the pitch. Fail to constructing the drainage system will cause deterioration of artificial pitches.
The common drainage system of a synthetic pitch base layer is usually leveled with a slope between 3‰—4‰ from the middle, 8‰ for corners and 5‰ for straight lines. The location and surrounding of the proposed site and the water outlet locations are very important factors in the construction design of a drainage system. You need to consult with drainage professionals before preparing the sub layer of the synthetic pitch.
There are three types of base for artificial grass sport fields
Artificial grass may be installed on a well engineered asphalt base, compacted aggregates or reinforced cement.
Reinforced Cement: It is a most recommend sub layer for smalle size sport pitches or school use. The cost of concrete sub base is most economical. It is easy to install. You can be constructed by means of reinforced concrete slabs minimum 150mm thickness. The artificial grass is installed on top of the concrete surface.
Asphalt base: It is more used for professional sports field. The asphalt base is the mostdurable and stable base to play. It has less influence by high temperature and humidity. The synthetic grass is installed over the asphalt wearing course. Most asphalt bases are non water permeable.
Compacted aggregates base: The base foundation consists of compacted course and fine aggregates. A geotextile material is required to install between the base aggregates and artificial turf. The benefit of an unbounded base is that it is water permeable, less costly than an asphalt base. But it might need replacement or repairs in a few years.